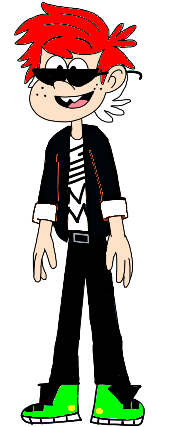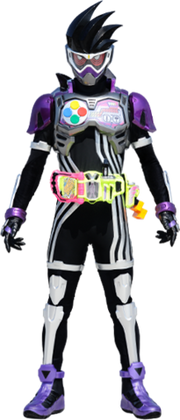 Linus Loud is the 3rd Main Protagonist in Kamen Rider Nickelodeon:Future Trilogy. Linus is the twin brother of Lincoln & the son of Arthur Gaizen,he will fight with Lincoln & Leni to fight the bugs-ultra unions & The Anti-Kamen Riders,even if he can't decide if he chooses who he is in his past of his sins & His deeds,if he's blitz-aid or Genm,but uses them both in different battles as Blitz-Aid or Genm & he was Luan's Obsessed Love Interest & he is always sexually harassing His Brother's & Sisters' friends like Sam,Dana,& Teri & he made them his Sex Friends but he will always plan his future to make Luan his wife,but after a sudden purpose inside him after KRG 2:Genesis Infinity Started,his body began to become a Bugster just like Lincoln,his full body was completely 100% perfected has he becomes Genm's Mutated Bugster Form,"Kamen Rider Genminus"!.
Name:Linus Loud
Age:17
Species:Human
Rider Type:Hero (as Genm & Blitz-Aid)/Anti-Villain (as Genminus)
Relatives:Lincoln Loud (Twin Brother),Lori Loud,Leni Loud,Luna Loud,Luan Loud,Lynn Loud Jr. (Older Sisters),Lucy Loud,Lana Loud,Lola Loud,Lisa Loud,Lily Loud (Younger Sisters),Lynn Loud Sr. (Father),& Rita Loud (Mother)
Children:Lance Loud,Lucas Loud (Sons),Lara Loud,Lina Loud,Lena Loud,Lillian Loud,Lynette Loud,Lucia Loud,Lona Loud,Lora Loud,Lica Loud,& Lillie Loud (Daughters)
Enemies:Graphite Bugster,Megahex,Urga,Rahzar,& Rocksteady
Ad blocker interference detected!
Wikia is a free-to-use site that makes money from advertising. We have a modified experience for viewers using ad blockers

Wikia is not accessible if you've made further modifications. Remove the custom ad blocker rule(s) and the page will load as expected.