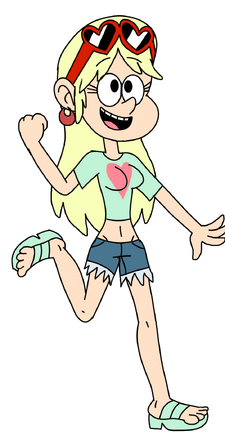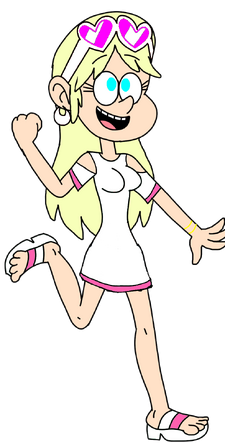 Leni Loud is the 2nd Protagonist in Kamen Rider Nickelodeon:Future Trilogy. She is Lincoln's Ditzy,Beautiful,Fashionable,& sexual sister,she dreams of being a fashion designer & she always sexually emotional to Lincoln,after he came back,Leni & Lincoln dreamed about becoming parents with their siblings so they can be a happy family with 12 children,& she had Sex with Lincoln everyday at day & night time,& she will always love him & help him cure his patients cause she is The Gamer Nurse,Kamen Rider Poppy,& after she discovered more of the KR Ginga II:Genesis Infinity,she realized she was part of the game as a Goddess named Valeria "The Woman of Beauty" & the game ends with a kiss from her as the player's Bride,& she made Lincoln become a god from the ending's kiss & became Sagittarius "The Man of Time",The Woman of Beauty's Husband.
Name:Leni Loud/Valeria
Nickname:The Woman of Beauty
Age:17
Species:Human/Goddess
Rider Type:Heroine
Relatives:Lincoln Loud,Linus Loud (Younger Brothers),Lori Loud (Older Sister),Luna Loud,Luan Loud,Lynn Loud Jr.,Lucy Loud,Lana Loud,Lola Loud,Lisa Loud,Lily Loud (Younger Sisters),Lynn Loud Sr. (Father),& Rita Loud (Mother)
Children:Lance Loud,Lucas Loud (Sons),Lara Loud,Lina Loud,Lena Loud,Lillian Loud,Lynette Loud,Lucia Loud,Lona Loud,Lora Loud,Lica Loud,& Lillie Loud (Daughters)
Enemies:Graphite Bugster & Megahex
Ad blocker interference detected!
Wikia is a free-to-use site that makes money from advertising. We have a modified experience for viewers using ad blockers

Wikia is not accessible if you've made further modifications. Remove the custom ad blocker rule(s) and the page will load as expected.